In the world of workforce solutions, the concept of Employee Lifetime Value (LTV) holds the key to unlocking long-term success. Long-lasting relationships is in our DNA. At Jopp, we recognize that LTV is not just a metric; it's a testament to the value we bring to our partners in the form of talented and engaged employees. In this post, we delve into what Jopper LTV represents, why it's pivotal for business, and how we're committed to elevating this vital metric 🚀


What is Jopper LTV?
LTV, in our context, stands for Lifetime Value – specifically, the average duration a Jopper (our term for candidates employed through us) stays employed through us at our partners. It's a comprehensive indicator of the value our workforce brings to our partners over time. 


What does a longer LTV indicate?
Well, many things, and below, we break down a few:
Productivity: The employee's contribution to the company's output, including revenue generation, project completion, and innovation.
Cultural Fit: How well the employee aligns with the company's values, culture, and mission, which can affect overall team dynamics and morale.
Retention: The length of time the employee remains with the organization, which can significantly impact recruiting and training costs by reducing turnover.
Leadership Potential: The employee's potential to grow within the organization and take on leadership roles.


Our Ongoing Commitment
Our ultimate goal is to continually extend the Jopper LTV. For this quarter, it stands as a pivotal metric and a target we're diligently working towards. Currently, our average Jopper LTV is 356. By year-end, our aim is to raise it to 365, meaning that we aim to work with a Jopper for a year on average.
In essence, a high LTV signifies that we've not just connected employers with employees but have nurtured lasting relationships. It underscores our dedication to ensuring Joppers' satisfaction and our commitment to recruiting ambitious students who aspire to grow. In fact, 22% of Joppers have transitioned into full-time employment through us 👏🏼
With no better way to say it, we're here to brag, a longer LTV means we've done a good job matching employers with employees, we've kept Joppers happy, and have hired students that are ambitious and want to grow.


Meet Alice: Our Longest Jopper
To put a face to this remarkable journey, we'd like to introduce you to our longest-serving Jopper, Alice. Alice has been an integral part of our community, embodying the essence of Jopp's mission, and serving as a shining example of the potential that resides within the candidates we work with for 1252 days. Alice first joined Jopp in May 2020 where she started working for Adyen. She is now transitioning into a full-time role at Adyen, way to go Alice, doing us proud 🎉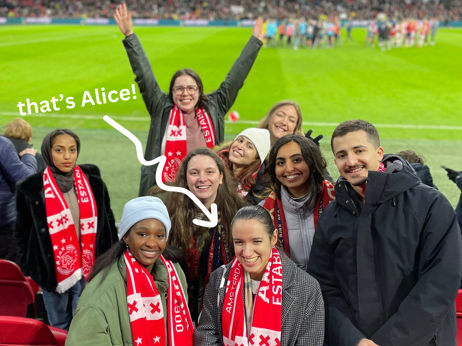 ---
In conclusion, Jopper LTV is not just a metric; it's a reflection of our dedication to delivering enduring value to our candidates and partners. As we work towards elevating this number, we're excited about the continued success stories we'll be creating in the near future.
Contact us for some ambitious students who are sure to stick around to bring up your company's average LTV 😉