Leestijd: 4-5 minuten
HOW TO FLY THROUGH THE APPLICATION PROCESS AT JOPP!
Successfully applying for a job through Jopp doesn't have to be difficult, but putting in some time and effort certainly doesn't hurt. Want to know what to expect and how to get through your application quickly? We've put together a handy roadmap with additional tips for a successful job application based on Jopp's best practices.
Do you believe it all and especially want to know the golden tips to fly through the process. Then click here!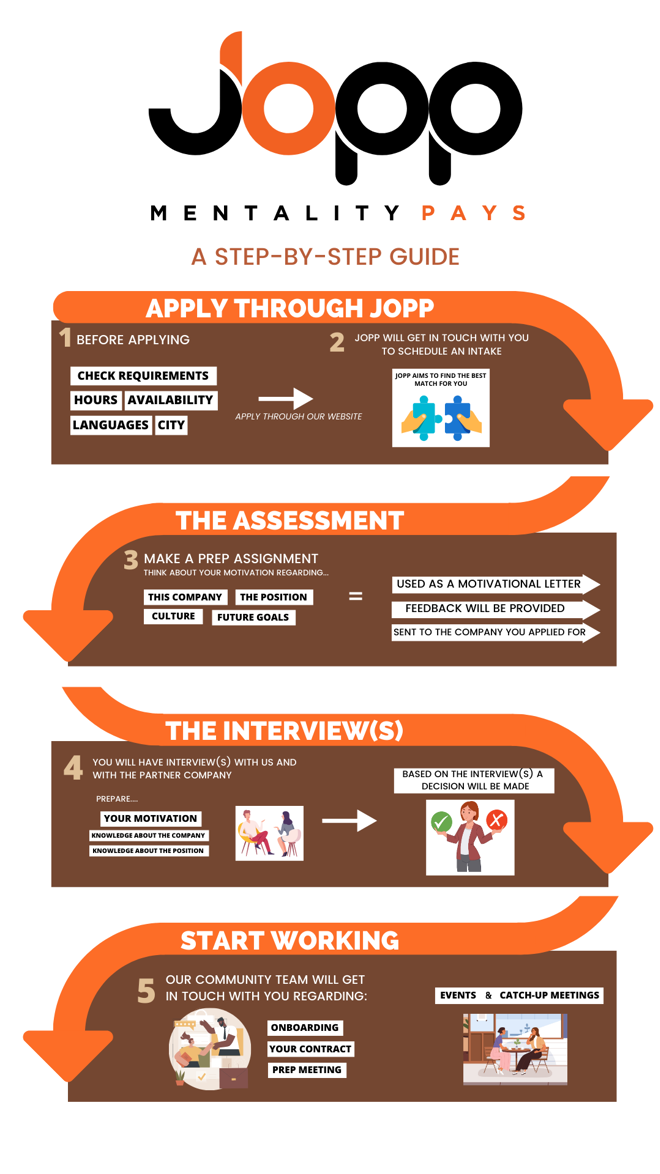 In 4 steps through the job application process:

1. Apply: You have seen a vacancy somewhere for a (side) job with one of our partners, and you are enthusiastic, great! Just check the practical conditions and you are ready to go. Click on the application button; fill in your details, and we will contact you as soon as possible.
Not sure which vcancy appeals to you? Then you can check all kinds of useful filters on our job page to find the right job for you.
Still can't find it? No worries. We also have a talent pool you can sign up to. We will then work with you to see which vacancy best suits your interests and practical needs.
2. The intake interview: we schedule a call in which we get to know you and complete your data in our system. We also discuss whether we see a possible match with the actual vacancy you applied for. If we have found a possible match, we discuss the next steps.
3. The assessment: this step is slightly different from most employment agencies: we want to get to know you even better to really determine whether you are a match for the vacancy. That way we don't waste any time! We do this using the Jopp prep assignment, and in most cases we also schedule a short video interview.
4. The feedback: we take the time to determine if we see a match and prepare the feedback. In a short call, we explain our decision. You get feedback on your performance in the interview, so you know exactly where you stand.
Is there a match? Congratulations! We introduce you to the partner and help you prepare for the interview process at the company.
There is no match? Don't worry! Then we'll take another look at which vacancy does potentially suit you.
"Pff, jeez, that's a lot of steps. Can't I get an interview with the company right away?"
We want to maximize your chances of getting that challenging side job, and we do this through several steps in which we get to know you better. In addition, we have frequent and direct contact with the partner. As a result, we know exactly what they are looking for. We thus promote a lasting relationship. You are happy, partner happy, we happy!
"Okay, check! Are there any things I can do to make the process faster?"
Yes definitely ;) Here are the golden tips to fly through the application process:
Read up on the company you are applying for beforehand and prepare your motivation with the Jopp prep assignment. You can then upload this with your application.
If you have any questions or doubts about the position, don't hesitate to contact the handsome head in the job description. We are ready to help you with your questions via phone, email and chat.
Furthermore, we on our end do everything we can to help you through the application process as quickly as possible. Did you know that on average these steps only take a week? During that week we are even weekends off and you are busy with school. We do that together quickly if you ask me.
Now that everything is clear: hop away from this blog and on to your next job!